Asclepius Herbal Consultancy
Analysis Tools / Software
Applying computer technology
in the service of nature
Analysis Tools Application
Asclepius Herbal Consultancies have developed a set of Microsoft Windows® based applications to aid regular analysis procedures associated with the production of herbal medicines. The software, which was originally developed as an integral part of the VCLF Percolation System control software* has been released as a stand-alone package which can be applied to any production system.
Analysis Tools Application
Menstrum Retention Factor
Solids Analysis Tool
Reynolds Calculation
Database Storage of Analysis Results
Download trial version
The trial version is has fully functional analysis calculation algorithms and is not time limited. However, database and help functions are not available.
To download the trial version, click on the icon
Solids Analysis Tool
A simple but valuable tool which automatically calculates and stores total soluble solids analysis results from laboratory figures.
Menstrum Retention Factor
Used in association with a simple laboratory test, this tool calculates menstrum retention levels for comminuted herbal material. The tool is designed to be used in association with percolation extraction processes to aid with calculating marc/menstrum proportions to be used in production.
The menstrum retention data can also be updated with analysis figures from production measurements in order to compensate for minor deviations from the laboratory analysis results. This ensures that the application database can provide accurate up-to-date reference figures.
Reynolds Calculation
Reynolds number analysis can be applied in a percolation production process to calculate the linearity of menstrum flow through the marc. This provides information as to the 'tracking tendency' of the packed material and also indicates whether 'clogging' of the percolation cylinder is likely to occur.
Using data generated from a simple laboratory process the program estimates the Reynolds number for a specific packing density (measured as g/l) for a specific pre-soaked mark.
*Used in association with the VCLF III Percolation System Software, the Analysis Tools integrate seamlessly with the production control data. Utilising the same database for production data-storage and analysis results ensures that all relevant data related to a specific product is directly accessible. The data is stores in SQL format, which makes the information readily available for use in other software applications.
VCLF Percolation System Control Program
Asclepius Consultancy's VCLF percolation system reduces the amount of labour intensive operations in the production process. The control program is Microsoft Windows® based and has been developed to give a user-friendly graphical presentation of the percolation process for easy monitoring of the production process.
Furthermore, percolation run-data is logged into the computer automatically and can also be supplemented with user defined values.

w Product description
w Product ratio (1:1, 1:2 etc.)
w Alcohol strength
w Quantity
w Crude drug ID
w Production batch number
w Date
w Process time started
w Process time finished
w Post-percolation solids analysis results
w Operator

Other associated pages on this site that might be of interest: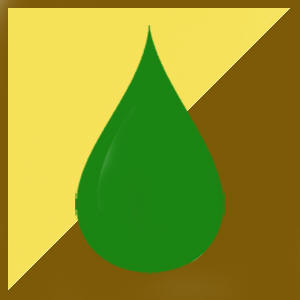 Analysis Tools Application
Download
Analysis Tools Application
Solids Analysis
screen-shot
click on the picture to open a larger window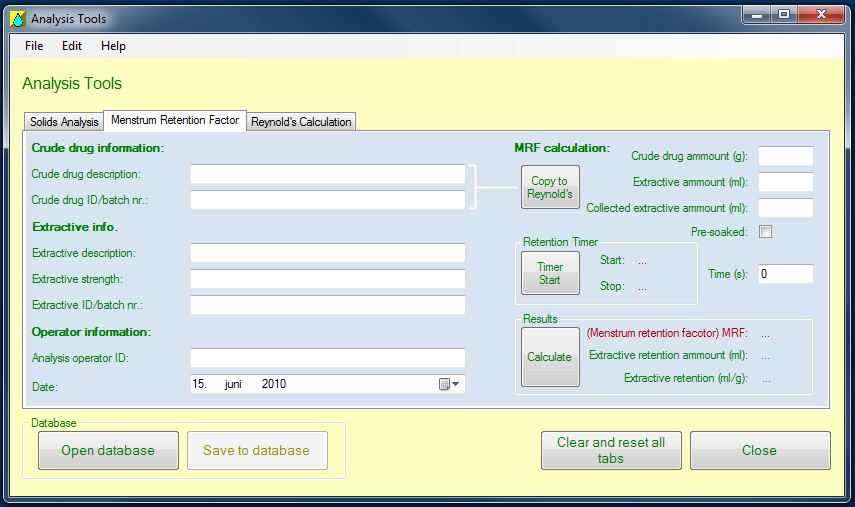 Analysis Tools Application
Menstrum Retention Factor screen-shot
click on the picture to open a larger window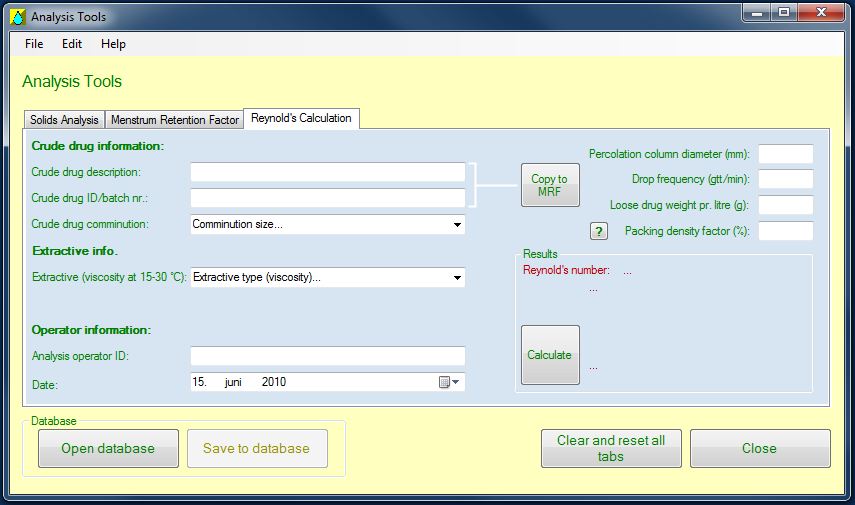 Analysis Tools Application
Reynolds Calculation
screen-shot
click on the picture to open a larger window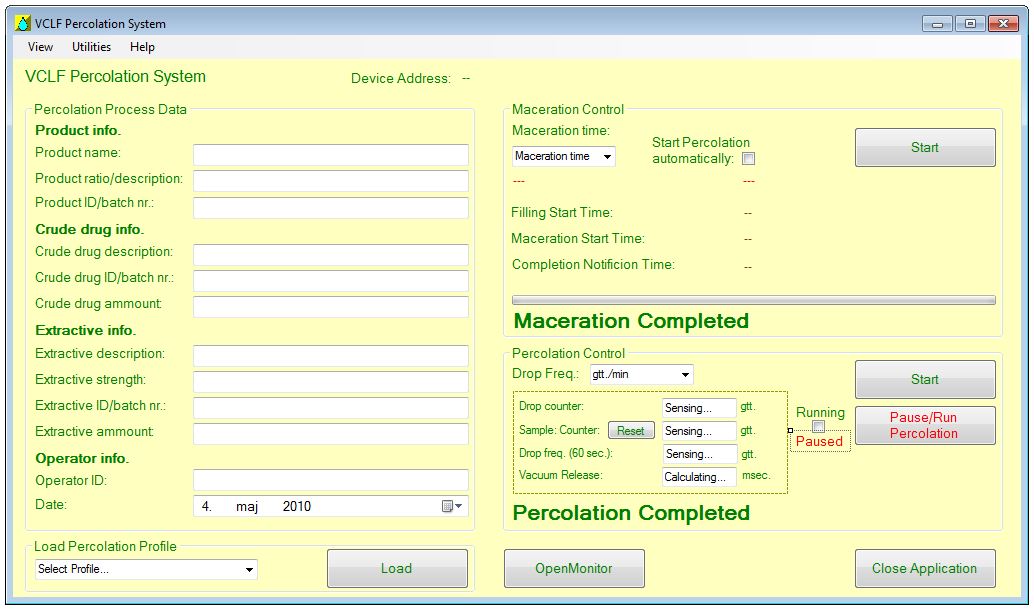 VCLF Percolation System Control Program
screen-shot
click on the picture to open a larger window